Howdy Pard's!
This is the start of my blog for my western town that will be at first utilized for
Warhammer Historical- Legends of the Old West
and eventually for my own western game,
Hurled into Eternity
or even games of
Boot Hill.
Right now its at its earliest stages with the main boards undercoated and some test flock and stones. I'm out of Woodland Scenics tubs of flock so I'll have to pick up a few more. You'll notice that instead of some desert town "somewhere in the American South West" like every other town out there I went a different route. In my case I used my Time-Life Old West series and picked up the Loggers, what a great idea! Every western town has to have a basis of an economy so my would be timber. I envision the town somewhere in northern Colorardo, western Wyoming or Montana where there were plenty of real life western towns. So while I love the movie
Tombstone
I used the movie
Unforgiven
with the town of Big Whiskey as my inspiration: a withered, washed out look will apply to the buildings.
The terrain boards will all be turfed and sprayed to keep the flock down, but I'm going to make muddy roadways through the town that will be brown and simulating churned mud.
I have yet to settle on models but and leaning towards Black Scorpion's Tombstone line.
So here is the start, the town of Timber Ridge, a town obviously fueled by logging but a place where desperadoes, cowboys and lawmen battle it out! In this photo you can also see the balsa wood supplies, but of more importance is the card board square. I'm going to cut it down a bit but that is teh next building: it will be a corral with a small shed.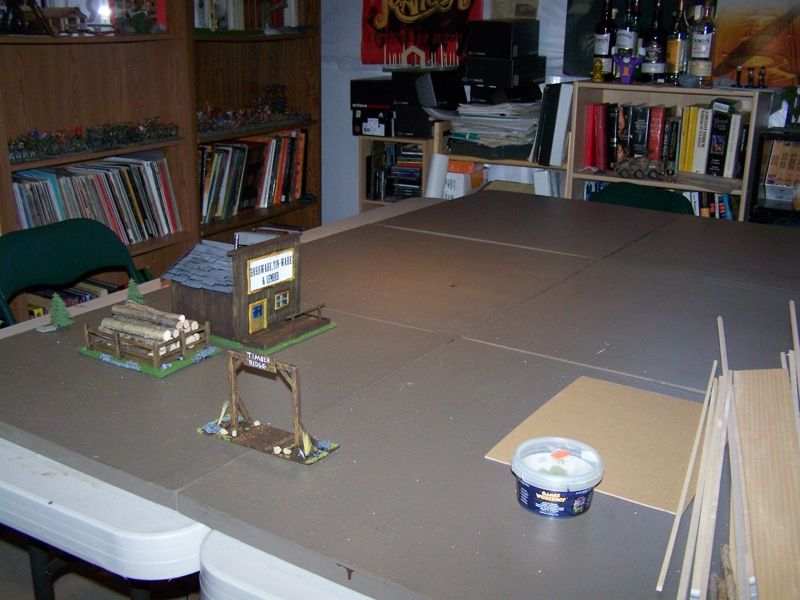 This building represents my fist try. I've created tons of terrain over the years but needed to get back in the saddle as it were (see what I did there?)
Its a simple hardware store and a nearby a lumber pile representing the town economy. It was a simple matter of grabbing some small branches and sticks and cutting them to represent logs. The hardware store was likewise a test building to try some stuff out along with the sign post to delineate the entry to the town.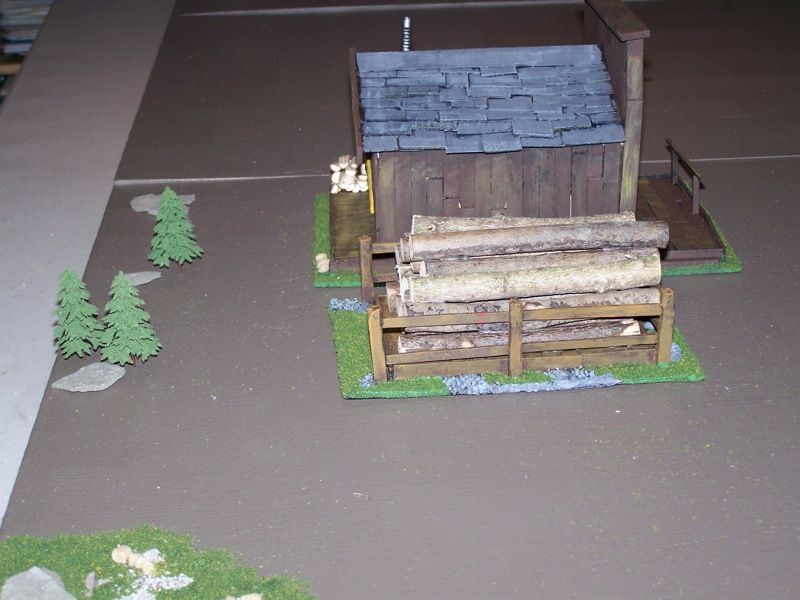 I completed a small corner of the first board to test out how I wanted to turf it. For future I'm going to paint the stones first then flock. I added a few small removable pine trees just to give it some effect. Later on I'll be getting some larger ones from a train shop.
Next up is the next building that is almost complete: the Sheriff's office/jail. I basically followed some pictures I followed from a Google search as I really liked the look of it. The jail cells are going to be painted stone so I just directly glued the gravel to the side. The building is sided with craft sticks with the round edges cut off. I just need to finish one side of the posts in front and the bask steps plus the stove pipe in the roof and its done.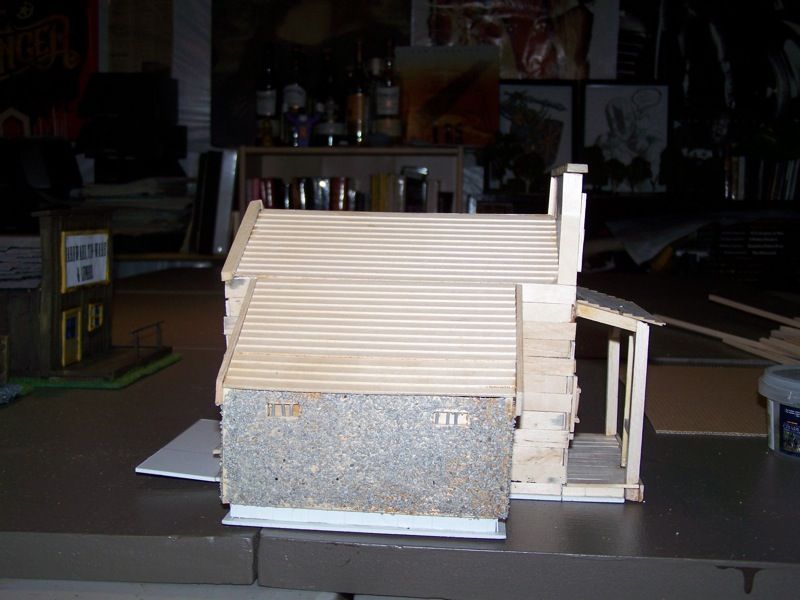 That's all for now. I like the progress so far and I am eager to create more. After the corral I'm thinking a barn, the first saloon with balconies and a few houses.